Cast • Birthdays • Episodes • Events • Galleries • Guides • Polls • Pyramid • Songs • Spoilers • Studios • External Links

Cast
Dance Studios
Miscellaneous
Who is least likely to be on the show for Season 6?
Registered users see relatively few advertisements compared to unregistered users. If you have not registered, how much of a problem do you think the advertisements are on this site?
See also: Spoilers page

Click here to see the News Archive.
January 6, 2015: Beginning of broadcasts for Season 5
January 7, 2015: Release of Sia's "Elastic Heart" music video
January 17, 2015: Maddie and Sia on Saturday Night Live
January 17, 2015: Maddie and Sia performing on The Ellen DeGeneres Show
February 8, 2015: Maddie performing for Sia at Grammy Awards
February 13-15, 2015: Full ALDC at Jump in Pittsburgh
February 18, 2015: Filming of mid-season Reunion Special
February 26 - March 3, 2015: ALDC in Ireland [1]
March 13-28, 2015: ALDC in Australia [2]; Abby's Ultimate Australian Dance Competition[3]; filming two Dance Moms episodes Down Under
March 28, 2015: Dance Moms won Best Reality Show at the Kids' Choice Awards
March 28, 2015: Broadcast of Austin & Ally episode guest starring Maddie
April 2, 2015: Release of Sia's "Big Girls Cry" music video featuring Maddie
April 2, 2015: JoJo released "I Can Make U Dance" song
April 28, 2015: Nia's "Star in Your Own Life" music video released
May 5, 2015: Maddie on DWTS. Trio with Brynn Rumfallo and Jaycee Wilkins, brief solo
May 1, 2015: Dance Moms won "Best Recurring Cast" and "Best Villain" at Relaity TV Awards
May 30, 2015: Grand opening of ALDC L.A.
May 31, 2015: Filming of the Dance Moms nationals
June 18-20, 2015: Annual ALDC recital
June 20, 2015: Broadcast of Ricky, Nicky, Dicky & Dawn episode with Mackenzie
June 26 July 3: Kalani among those at The Dance Awards in Las Vegas
June 29, 2015: Kendall's "Wear 'Em Out" music video released
June 30, 2015: Maddie on Pretty Little Liars
July (early), 2015: Nia doing off-season training in NYC
July 5-12: Mackenzie, Maddie, other members of ALDC at The Dance Awards in NYC
August 14-17: ALDC Bootie Camp, Los Angeles
August 20-24: ALDC Bootie Camp, Pittsburgh

"

If I had to marry someone, I would marry Justin Bieber!

"
"

Susan thinks that she's a dance instructor and that her privates with Jessi are actually helping Jessi, but it's not. She either needs to go shopping or be with her husband.

"
"

We are one team, united & we are gonna win this.

"


Set in Pittsburgh's Abby Lee Dance Company, "Dance Moms" follows children's early steps on the road to stardom, and their doting mothers who are there for every rehearsal, performance and bow… all under the discerning eye of Miller.
(Read More)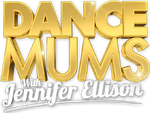 Dance Mums (U.K.) is a show that was originally made for Lifetime in the United Kingdom. Lifetime began broadcasts in the United States on March 17th, 2015. The show features Jennifer Ellison, along with mothers and their daughters from Liverpool. 
(Read More)

Dance Moms: Miami
goes behind-the-scenes at Miami-based Stars Dance Studio, where the school's owners and renowned contemporary dance instructors Victor Smalley and Angel Armas teach, train and choreograph a diverse group of talented girl and boy dancers as they strive to become the best in the sport of competitive dance and tomorrow's stars. While Victor and Angel fiercely dedicate their lives to their craft, they expect the same from both their young students and their mothers.
(Read More)

"Stomp the Yard" is a group dance performed in Abby Got Served, early in Season 5 of Dance Moms. The dancers featured were (left to right, above): Kalani, Kendall, Mackenzie, Maddie and Nia.
---

"Devastated" was featured in Episode Seven of Dance Moms: Miami. The dancers were Hannah Epstein, Jessi Kennedy, Kimberly Kopke, Sammy Small, and Lucas Triana. The dance placed first.
---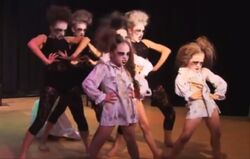 "Madhouse" was featured in Episode Five of Dance Mums U.K.. The dancers were Sam Dennis, Chloe Fenton, Tayluer Amos, Aleah Simpson, Eleiyah Navis, Molly Thorpe-Franklin, and Chloe Greenwood.


Nia Sioux Frazier is a thirteen-year-old dancer at the Abby Lee Dance Company. She was born on June 20, 2001 to Holly and Evan Frazier, and has two brothers, Evan (Jr.) and William. When she grows up she wants to be a Rockette, but if she doesn't dance, she wants to be an artist.
---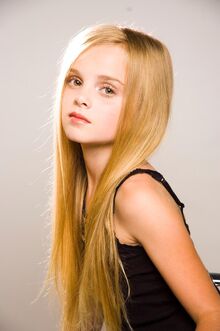 Mia Diaz is a dancer on Dance Moms: Miami. She was born on September 17, 2001 to Leonora Diaz. She has won titles for "passion" and "personality" among many other awards.
---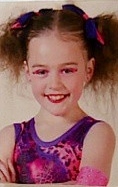 Chloe Fenton is one of the youngest in the group but the bar is set high, as Jennifer's named her as her prodigy. She is the rising star of the group and when she puts her competition head on, she is in it to win it.