Cast • Birthdays • Episodes • Events • Galleries • Guides • Polls • Pyramid • Songs • Spoilers • Studios • External Links

Cast
Dance Studios
Miscellaneous
Who is your favorite girl that has featured on the elite team?
Who is your favorite girl on the mini team?
See also: Spoilers page

Click here to see the News Archive.
January 4, 2016: Kendall featured in Nation A List's January issue
January 5, 2016: Maddie, Kendall and Nia featured in Seventeen's February issue
January 5, 2016: Season 6 premiere
January 6, 2016: Maddie wins DailyMail.com's Seriously Popular award at the People's Choice Awards
January 9, 2016: Resume of filming for Season 6
January 16, 2016: Broadcast of Nicky, Ricky, Dicky and Dawn episode named "Ballet and the Beasts" featuring Maddie
January 22, 2016: Big City Kids January 2016 issue featuring Nia was released
January 27, 2016: JoJo, Mackenzie, Kendall and Maddie all attended Disney's 'Star Darling's party
January 29, 2016: Maddie performed at Disneyland's 60th Anniversary Celebration.
January 30, 2016: Kendall, Mackenzie, Maddie and Nia made a guest appearance in Todrick Hall's show, The Toddlerz Ball
February 3, 2016: JoJo gave a TED talk
February 3, 2016: Maddie, Nia, Kendall & Kalani attended "Miss Me & Cosmopolitan's Spring Campaign"
February 9, 2016: A short dance film produced by Capezio featuring Maddie was released.
February 21, 2016: ABC's two hour special "The Wonderful World of Disney: Disneyland 60" featuring Maddie will air
February 22, 2016: Maddie worked with Sia on some tour visuals that were used during her Coachella performance and will most likely be used for Sia's upcoming tour. It is also likely that she was working on the "Cheap Thrills" music video around the same time
February 27, 2016: Filming of Dance Moms nationals. This marked the Zieglers' last nationals and competition on the show
March 1, 2016: Filming of mid-season reunion
March 3, 2016: Filming of a fourth Girl Talk episode
March 4, 2016: Filming of Ziegler sisters and Abby throwback special. This will be the last episode to feature the Ziegler family
March 5, 2016: Mackenzie, Kendall & Maddie competed at Sheer Talent with ALDC PA
March 12, 2016: The cast attended the 2016 Kids' Choice Awards where Dance Moms was nominated for "Favorite Talent Competition". The girls also presented for Charlie Puth and Wiz Khalifa's performance
March 13, 2016: Final day of recording for Mackenzie's new album. The release date is currently unknown
March 14-24, 2016: Abby's European tour. Brynn assisted at the events.
March 21, 2016: Official music video for Sia's "Cheap Thrills" featuring Maddie was released
March 29, 2016: Nia, JoJo, Chloe were seen attending the "High Strung" movie premier. Chloe was also there and Nia performed her song DJ Fav. (Nia: Interview, Performance; JoJo: Interview; Chloe: Interview)
April 1-3, 2016: Kendall and the Zieglers held meet and greets in Nashville, TN (April 2) and Atlanta, GA (April 3). JoJo also held meet and greets in Kansas City (April 1) and Dallas, TX (April 2).
April 8, 2016: Kalani performed at NUVO for Club Dance. She tied for 4th place overall in the Teen Division alongside 2 other dancers. She also received a DJs pick award, meaning she scored 291+ out of 300. Video
April 11, 2016: Filming for Season 6 resumed
April 12, 2016: JoJo attended and performed her new song "Boomerang" at the Race to Erase MS event
April 26, 2016: Brynn on set filming for The Ellen DeGeneres Show with Dancer Palooza
April 28, 2016: The Ellen DeGeneres Show episode featuring Brynn aired. (Clip)
May 6, 2016: Release of JoJo's single "Boomerang"
May 17, 2016: Premiere of JoJo's "Boomerang" music video

"

Nia was recognized by James and Sergio as a mini Beyoncé in their office. So, two pats on my back.

"
"

I love the whistle because I just have to blow into my whistle and those moms will shut up because there's nobody in that room who's going to be able to scream louder than those whistles. Well, maybe Susan.

"
"

I don't know what's happened to Charlotte. She has her hair really blown and she suddenly looks like Kim Kardashian.

"


Set in Pittsburgh's Abby Lee Dance Company, "Dance Moms" follows children's early steps on the road to stardom, and their doting mothers who are there for every rehearsal, performance and bow… all under the discerning eye of Miller.
(Read More)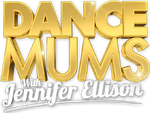 Dance Mums (U.K.) is a show that was originally made for Lifetime in the United Kingdom. Lifetime began broadcasts in the United States on March 17th, 2015. The show features Jennifer Ellison, along with mothers and their daughters from Liverpool. 
(Read More)

Dance Moms: Miami
goes behind-the-scenes at Miami-based Stars Dance Studio, where the school's owners and renowned contemporary dance instructors Victor Smalley and Angel Armas teach, train and choreograph a diverse group of talented girl and boy dancers as they strive to become the best in the sport of competitive dance and tomorrow's stars. While Victor and Angel fiercely dedicate their lives to their craft, they expect the same from both their young students and their mothers.
(Read More)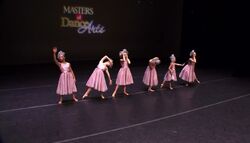 "Home Again" was a group dance performed in The Big, Not So, Easy in Season 3 of Dance Moms. The dancers featured were Nia, Maddie, Kendall, Paige, Brooke, Mackenzie and Ally. The dance placed 1st.
---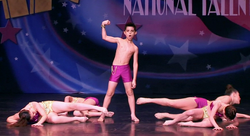 "City Boy" was featured in Episode Two of Dance Moms: Miami. The dancers featured were Hannah, Jessi, Kimmy, Sammy, and Lucas. The dance placed 1st.
---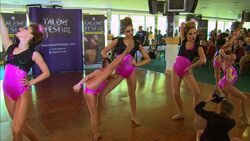 "Applause" was featured in It All Starts Here in Season 1 of Dance Mums. The dancers featured were Chloe Jnr, Tayluer, Chloe Snr, Eleiyah, Sam, Molly and Aleah. The dance placed 1st.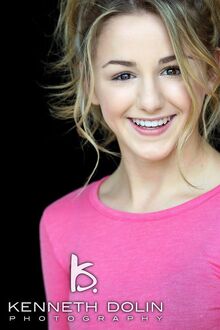 Chloe Elizabeth Lukasiak is a 14-year-old dancer who is a former member of the Abby Lee Dance Company. She was born on May 25, 2001 to Christi and Marc. Chloe has a younger sister named Clara who is eight years younger than her. Since leaving the ALDC, Chloe has joined Studio 19 and hopes to pursue the career of a rockette.
---

Lucas Triana was a dancer on Dance Moms: Miami as well as making some appearances on various episodes of Dance Moms. He was born on March 5, 2002 to Brigette Triana. Lucas hopes to be a professional dancer or actor in the future.
---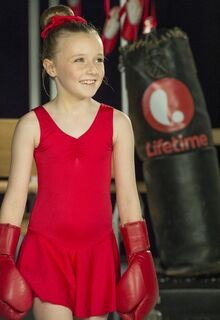 Aleah Simpson is a 10-year old dancer from Liverpool who is part of the UK series. Aleah is described as being the weakest link on the team but does not let that get to her and continues to work hard.