Home
Talk

1
915pages on
this wiki

Welcome to the Dance Moms Wiki!Since the Dance Moms Wiki was fan-created, anyone is welcome to edit. If you need help, click
here
or ask an
administrator
.
About the Shows

Set in Pittsburgh's renowned Abby Lee Dance Company, owned and operated by notoriously demanding and passionate instructor Abby Lee Miller, "Dance Moms" follows children's early steps on the road to stardom, and their doting mothers who are there for every rehearsal, performance and bow … all under the discerning eye of Miller. Presenting a powerful cast of characters sure to raise eyebrows, the series immerses itself in the highs and lows surrounding competition season to deliver an intriguing and dramatic look at the cast's frantic pursuit of the ultimate National Dance title. Centered on the devoted Miller, who runs her school with an iron tap shoe as she instructs her young, talented students while also dealing with over-the-top mothers who go to great lengths to help their children's dreams come true, "Dance Moms" will pose the tough questions many ask about what really goes on behind the scenes in the fast-growing and controversial art of competitive dance.
(Read More)

Dance Moms: Miami
goes behind-the-scenes at Miami-based Stars Dance Studio, where the school's owners and renowned contemporary dance instructors Victor Smalley and Angel Armas teach, train and choreograph a diverse group of talented girl and boy dancers as they strive to become the best in the sport of competitive dance and tomorrow's stars. While Victor and Angel fiercely dedicate their lives to their craft, they expect the same from both their young students and their mothers. All under the watchful eye of Victor's mother and Stars Dance Studio manager, Mayra Smalley, the team strives to uphold their motto of "Turning Kids into Dancers and Dancers into Stars," often sparking drama between the competitive mothers.
(Read More)
Around the Wiki
Dancers

Former Dancers

Dance Studios

Miscellaneous
News
May 16, 2013: Kelly Hyland's birthday!
May 17, 2013: Nicaya Wiley's birthday!
May 23, 2013: Dance Moms is nominated for another Teen Choice Award! Go vote for them here!
May 25, 2013: Chloe Lukasiak's birthday!
June 4, 2013: Mackenzie Ziegler's birthday!
June 4, 2013: The summer premiere of Season 3!
June 10, 2013: Gianna Martello's birthday!
June 13, 2013: Melissa Ziegler's birthday!
June 20, 2013: Nia Frazier's birthday!
July 6, 2013: Hannah Epstein's birthday!


July 16, 2013: Brandon Pent's birthday!
August 11, 2013: Teen Choice Awards 2013 premiere! Tune in to FOX to see if Dance Moms wins!
August 12, 2013: Anicia Gutierrez's birthday!
August 15, 2013: Jill Vertes's birthday!
August 24, 2013: Payton Ackerman's birthday!
September 8, 2013: Kerisa McCullough's birthday!
September 10, 2013: Victor Smalley's birthday!
September 11, 2013: Vivi-Anne Stein's birthday!
September 17, 2013: Mia Diaz's birthday!
September 30, 2013: Maddie Ziegler's birthday!

Click here to see the News Archive.
Polls
Are you going to watch the second half of Season 4?
Do you like the idea of Abby having two teams?
Who is your favorite dancer on the new team?
What are your thoughts on reunion episodes?
Follow Us on Twitter!
Featured Dances

"Red With Envy" is a number featured in Episode Eleven of Season Four of Dance Moms. The dancers were Fallon Chapman, Nia Frazier, Chloe Lukasiak, Kendall Vertes, and Maddie Ziegler. The dance placed first.
---

"Devastated" was featured in Episode Seven of Season One of Dance Moms: Miami. The dancers were Hannah Epstein, Jessi Kennedy, Kimberly Kopke, Sammy Small, and Lucas Triana. The dance placed first.
Featured Dancers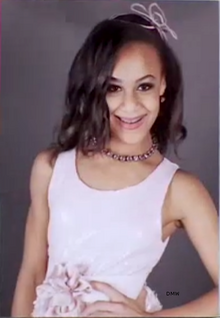 Nia Sioux Frazier is a twelve-year-old dancer at the Abby Lee Dance Company. She was born on June 20, 2001 to Evan and Holly Frazier, and has two brothers, Evan and William. When she grows up she wants to be a Rockette, but if she doesn't dance, she wants to be an artist.
---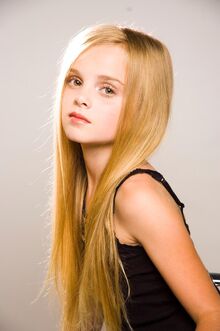 Mia Diaz is a dancer on Dance Moms: Miami. She was born on September 17, 2001 to Leonora Diaz. She has won titles for "passion" and "personality" among many other awards.
Featured Quotes
"

If I had to marry someone, I would marry Justin Bieber!

"
"

Susan thinks that she's a dance instructor and that her privates with Jessi are actually helping Jessi, but it's not. She either needs to go shopping or be with her husband.

"