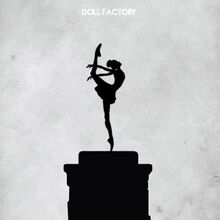 "Doll Factory" is an upcoming short drama ballet film. It is slated to come out later in the year. Many of the Dance Mums dancers have roles in the film. The young filmmakers are running a Kickstarter[1] funding campaign right now to raise money for production and to release the film.
An official trailer for the film was released in March 2016. A release date for the film is still to be decided.
Youtube link
Official trailer
Synopsis
Doll Factory is set in December 1999 in the fictional town of Fielson, Northern England where we meet twelve-year-old Aliza (Tayluer Amos), a ballet dancer who is trained by her father Viktor. With Aliza having the lead in the winter showcase, Viktor has extremely high expectations of Aliza's performance, expectations that Aliza's mother Rita doesn't agree with. With Rita warning Viktor for his applied pressure, Rita fails as she tries to talk Aliza out of over working herself at home and Rita is left to sit and watch Aliza train vigorously. With Aliza determined to perform the lead and the ending solo, Aliza is stuck between achieving a performance of a lifetime and knowing when her body has sacrificed enough.[2]
Cast
Production Team
Shaneika Johnson-Simms - Writer/Director
Daniela Cardim Fonteyne - Choreographer
Raphael Boamah-Asare - Director of Photography
Alexander Murtinheira - Producer
Parand Pourmoussavian - Producer
Trivia
Dance Mums dancers, particularly those that attended class at Nazene Danelle's Dance Dynamix, auditioned for the film. Tayluer landed the lead role of a 12 year ballerina.[3]. Chloe Snr. got the second lead role and Eleiyah, Chloe Jnr., Molly and two other Nazene dancers received roles as well.[4].
The production team are running a Kickstarter[1] funding campaign to raise the money for production and releasing the film.
The production team are releasing photos and videos from behind the scenes to people who back their campaign[1].
Gallery
Behind the Scenes
External Links
References
Ad blocker interference detected!
Wikia is a free-to-use site that makes money from advertising. We have a modified experience for viewers using ad blockers

Wikia is not accessible if you've made further modifications. Remove the custom ad blocker rule(s) and the page will load as expected.